Foundation Settlement is typically only damaging when it is differential, meaning portions of the foundation settle at different rates or different amounts. Theoretically, a house could settle several feet all at once and not sustain any damage. Practically, if the amount of foundation settlement is reasonable, uniform, and is not progressing, the only concerns are cosmetic. When portions of a foundation settle differentially, many problems emerge. Some of these could be vertical cracks in the foundation, uneven floors, drywall cracks, chimneys pulling away from the house, and tight doors and windows. Some of these problems can be tricky to fix and sometimes it will not be practical to get things back to a level and plumb condition. 

Foundation Joist, Beam, and Settlement Repairs Atlanta Ga
Crawl Space Foundation Inspections, Estimates, and Repairs in Atlanta Ga
Foundation settlement is not always the big problem it may look like to a homeowner. If the settlement has already created a structural hazard, it will need to be addressed, and should always be evaluated by an crawl space foundation repair specialist. There are not many gray areas with foundation settlement. The actual mechanics and possible reasons for excessive settlement of crawl space foundations can be very complex. It is usually a case of  repairing it and the costs generally varies from job to job. What this entails varies tremendously based on what damage has occurred. .

Evolution In Action      

  Crawl Space Foundation Repairs         

            "Serving all of Georgia and South Carolina"               

"A house can settle all at once and not sustain noticable damage"

               Evolution In Action Foundation and Structural Repairs - Savannah Georgia, Macon Georgia, and Atlanta Ga    

Crawl Space Foundation Repair Cost in Macon, Atlanta Ga, and Savannah, Ga             Foundation Settling Repairs in Macon, Atlanta Ga and Savannah, Ga

Foundation Leveling in Atlanta Ga, Macon,  and Savannah, Ga                                     Foundation Jacking In Macon, Atlanta Ga, and Savannah, Ga

Crawlspace Foundation Repairs in Atlanta Ga, Macon,  and Savannah, Ga                    Sagging Floor & Foundation Repairs in Macon, Atlanta Ga and Savannah, Ga

Foundation Estimate in Atlanta Ga,Macon, and Savannah, Ga                                       Foundation Pier Repairs in Macon, Atlanta Ga and Savannah, Ga

Foundation Beam Repair in Macon, Atlanta Ga and Savannah, Ga                                Stem Wall Foundation Repairs in Macon, Atlanta Ga and Savannah, Ga 

Pier & Beam Foundation Repairs in Macon, Atlanta Ga and Savannah, Ga                    Joist Repair in Macon, Atlanta Ga and Savannah, Ga

Proudly Serving Atlanta Ga and Surrounding Counties

Atlanta Ga, Barrow County, Bartow County, Carroll County, Cherokee County, Clayton County, Cobb County, Coweta County, DeKalb County, Douglas County, Fayette County, Forsyth County, Fulton County, Gwinnett County, Hall County, Henry County, Newton County, Paulding County, Rockdale County, Spalding County, and Walton County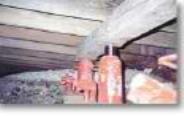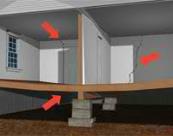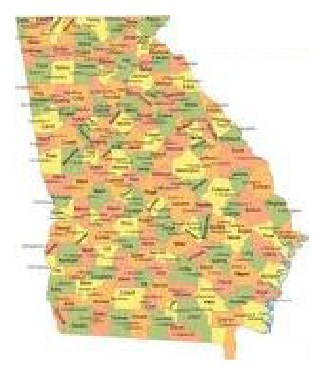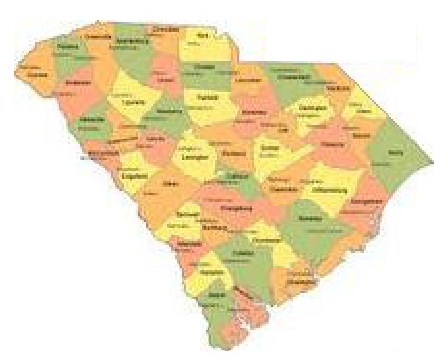 Aiken SC - Anderson, SC - Beaufort SC - Bennettsville SC - Berea SC - Cayce, SC - Charleston SC - Clemson SC - Clinton SC - Columbia SC - Conway SC - Dentsville SC - Easley SC - Florence SC - Forest Acres SC - Gaffney SC - Gantt SC - Georgetown SC - Goose Creek SC - Greenville SC - Greenwood SC - Greer SC - Hanahan SC - Hilton Head Island SC - Irmo SC - Ladson SC - Lancaster SC - Laurens SC - Lexington SC - Mauldin SC - Mount Pleasant SC - Myrtle Beach SC - Newberryburg SC - Parker SC - Rock Hill SC - Simpsonville SC - Socastee SC - Spartanburg SC - Summerville SC - Sumter SC - Taylors SC - Union SC - Wade Hampton SC - West Columbia SC

Proudly Serving South Carolina

Our service areas includes;  Acworth GA - Alpharetta GA  -Atlanta GA -  Americus - Austell - Bainbridge - Belvedere Park - Brunswick - Buford - Cairo - Calhoun - Canton - Carrollton - Cartersville - Cedartown - Centerville  - Chamblee - College Park - Conyers - Cordele - Covington - Dallas - Dalton - Dawson  - Decatur - Doraville - Douglas - Douglasville - Druid Hills - Dublin - Duluth GA - Eatonton  - East Point GA - Evans - Fairburn - Fayetteville - Forest Park - Fort Oglethorpe - Fort Stewart - Garden City  - Gresham Park - Griffin - Hinesville - Hinesville - Jesup - Kennesaw GA - Kingsland - Lawrenceville GA - Lilburn - Lithia Springs - Loganville GA - Macon GA - Mableton - Martinez - Milledgeville  - Monroe - Moultrie - Mountain Park - Newnan - Norcross GA - North Decatur - North Druid Hills  - Panthersville - Peachtree City GA - Perry - Pooler GA - Powder Springs - Richmond Hill - Rincon - Riverdale GA - Rome - Saint Marys - Saint Simons - Snellville - Statesboro - Stockbridge - Sugar Hill - Suwanee - Thomaston - Thomasville - Tifton - Toccoa - Tucker - Union City - Vidalia - Villa Rica - Waycross, GA - Wilmington Island - Winder - Woodstock

Settling of pier columns in a crawl space foundation is most often caused by weak foundation soils. Over time, these soils shift and settle with changes in moisture content and density, causing movement of the pier columns and the beams above. Sagging beams and floor joists are often the result of improper spacing of existing pier columns, effectively overloading the beams and causing them to bend and sag. Excess moisture and wood rot can also cause beams and joists to weaken over time.

Inadequate pier design is quite common under pier and beam homes where an inexperienced contractor has tried to install a makeshift support. The most common defective supports used are wooden stiff legs, which is a piece of wood stuck in the ground under the structure.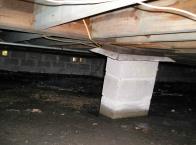 Be it the architect, builder, or repair contractor at blame, there are many defects to be found within the walls and floors of a home. These defects can  undermine  its  structural  integrity  and cause the need for foundation repair.  Many  homes lose their intended functionality because of those defects, and the owner is left unhappy and confused about why their home is so distressed and fatigued.

"Settlement or structural defects are sometimes caused by poor construction or architectural design"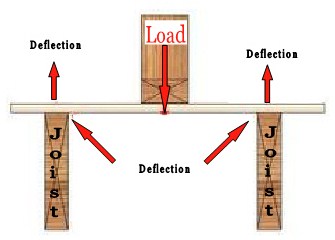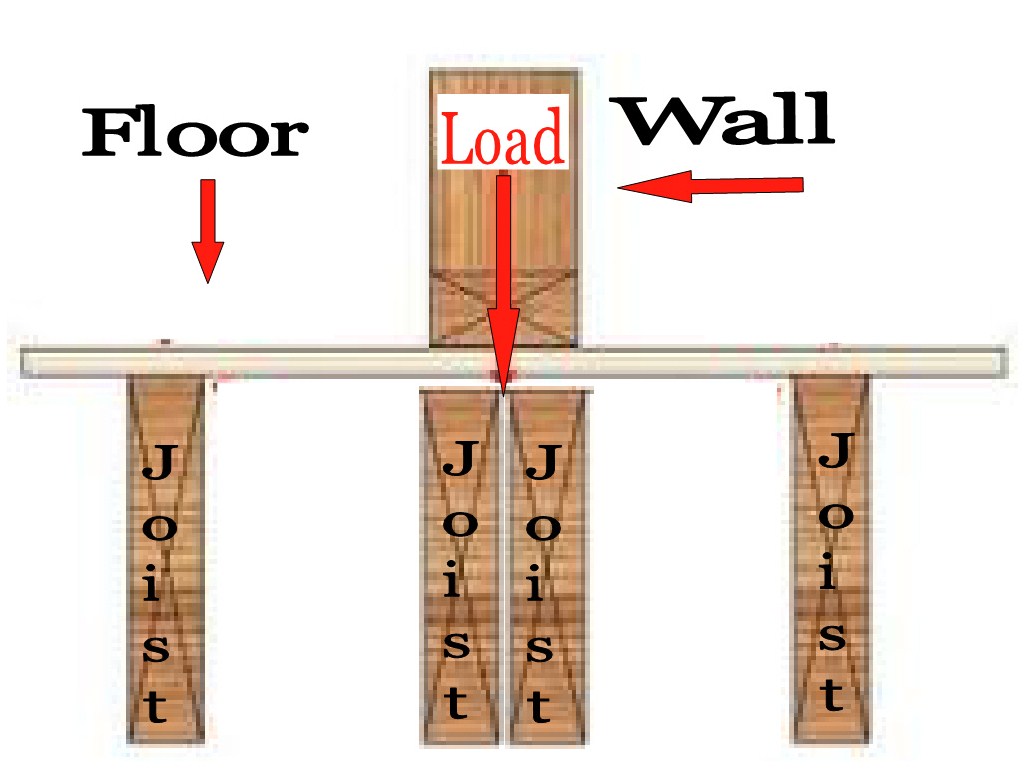 The most common defect is unsupported walls. A wall rests on a floor. The floor rests on foundation supports that connect the weight of the structure to the ground. When the connection to the ground is missing, the unsupported wall pushes the structure down, bowing the floors, pulling the roof and superstructure down with it. Where non-bearing  partitions walls run parallel to floor joists, the joist under the partition is doubled to support increased loads frequently occurring adjacent to the partition.

Sometimes we'll find a load bearing wall has been built in the same direction as the floor joists, and is IN-BETWEEN the floor joists. When a heavy wall rests on floor boards with nothing underneath, it bows the floor down, causing a sag in the floor. Load bearing walls are normally placed over the beams, piers or foundation walls that support the floor system. In some cases, the load bearing wall was built over a single floor joist, the wall is too heavy for the joist, and the joist will need to be doubled-up to better support the weight above.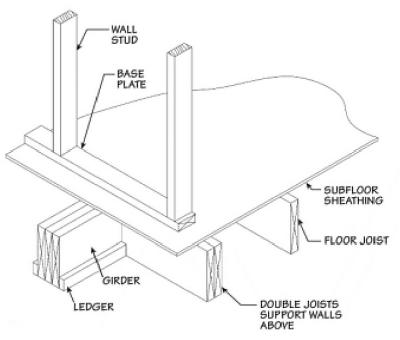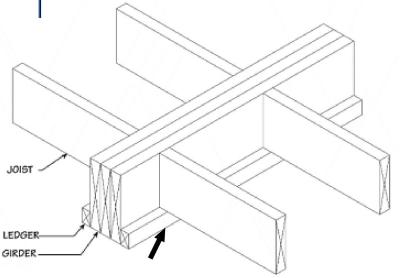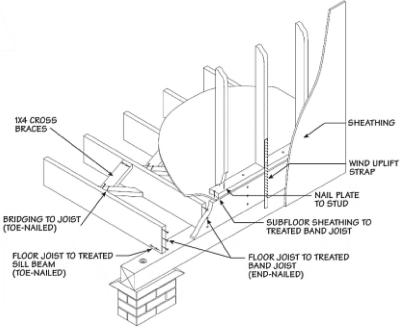 Exterior Wall on Band Joist

Click image for larger view

Click image for larger view

Click image for larger view

"Load-bearing and  partition walls that are improperly supported are also a common defect"

One common defect in older pier and beam homes is missing girders. It is quite common to see nothing but a sill plate under the load bearing walls. This can be seen often under the outside walls, but can be found as well under the center wall of the house, and also in other areas. The floor joists, flooring, and walls, all rest on this flat piece of wood called a sill plate (called a plate because it is flat like a plate). This plate can bend like a rubber band, causing the floor above to easily sag and bow. A girder must be added that will support many joists together, and evenly.

This can easily be remedied by placing a wood girder, beam or a doubled floor joist, up against the floor, immediately under the unsupported wall. The girder or doubled floor joists can then be lifted to raise the floor and wall to it's intended height. It can then be further supported by piers underneath that will connect it to the footing under the ground.  A structure should never be built like this in the first place, but when has been, there is no choice but to correct it.

"Inadequate pier design and spacing is common under pier and beam homes"

Poorly spaced piers are always a main concern with pier and beam foundations. The standard spacing of piers is about 6 feet apart. This rule will usually prevent sagging of the wood structure above. Also, if the pier supports do not cover enough area on the ground, they are likely to settle into the ground. If the piers rest on a base, or a concrete footing, it covers more area, and it will distribute the weight more successfully. More piers will, of course, share the weight of the structure more successfully than less piers.

Settling pier columns, sagging beams, and floor joist settlement within a crawlspace can lead to extensive cosmetic and structural damage in a home if left uncorrected. Symptoms such as sloping floors and cracks in drywall are common when additional support systems are needed within a crawlspace foundation. See more about
pier and beam foundation types
.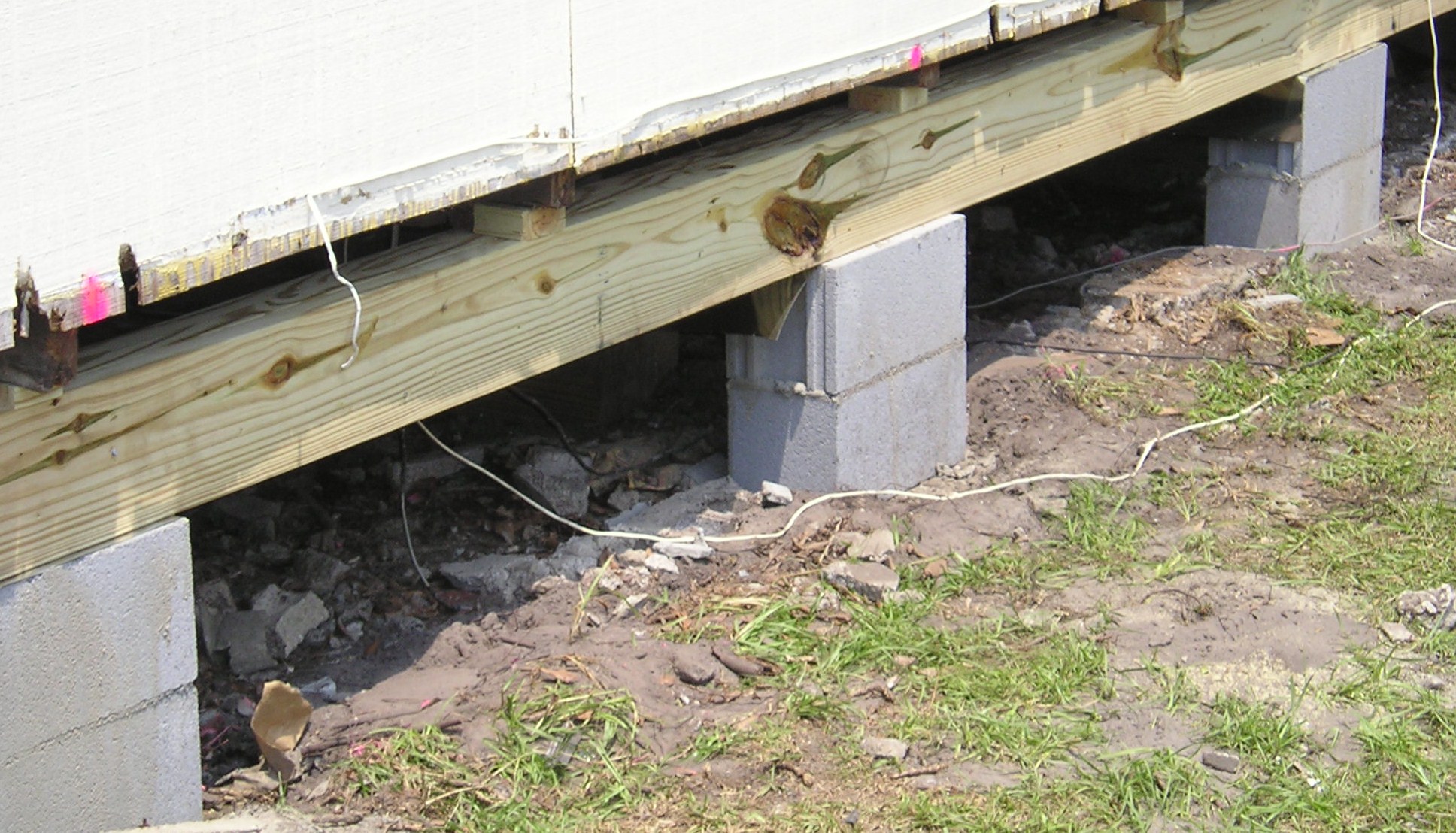 Sometimes stacked up bricks are used, and even sticks of pipe. If the support does not cover a large area at the bottom, it is usually a poor support, and needs to be replaced. Under a pier and beam structure, depending on the weight of course, a poured in place footing about 1 foot in the ground, and about 2 feet by 2 feet, will usually support most pier and beams, if they are placed on no further than 6 foot centers.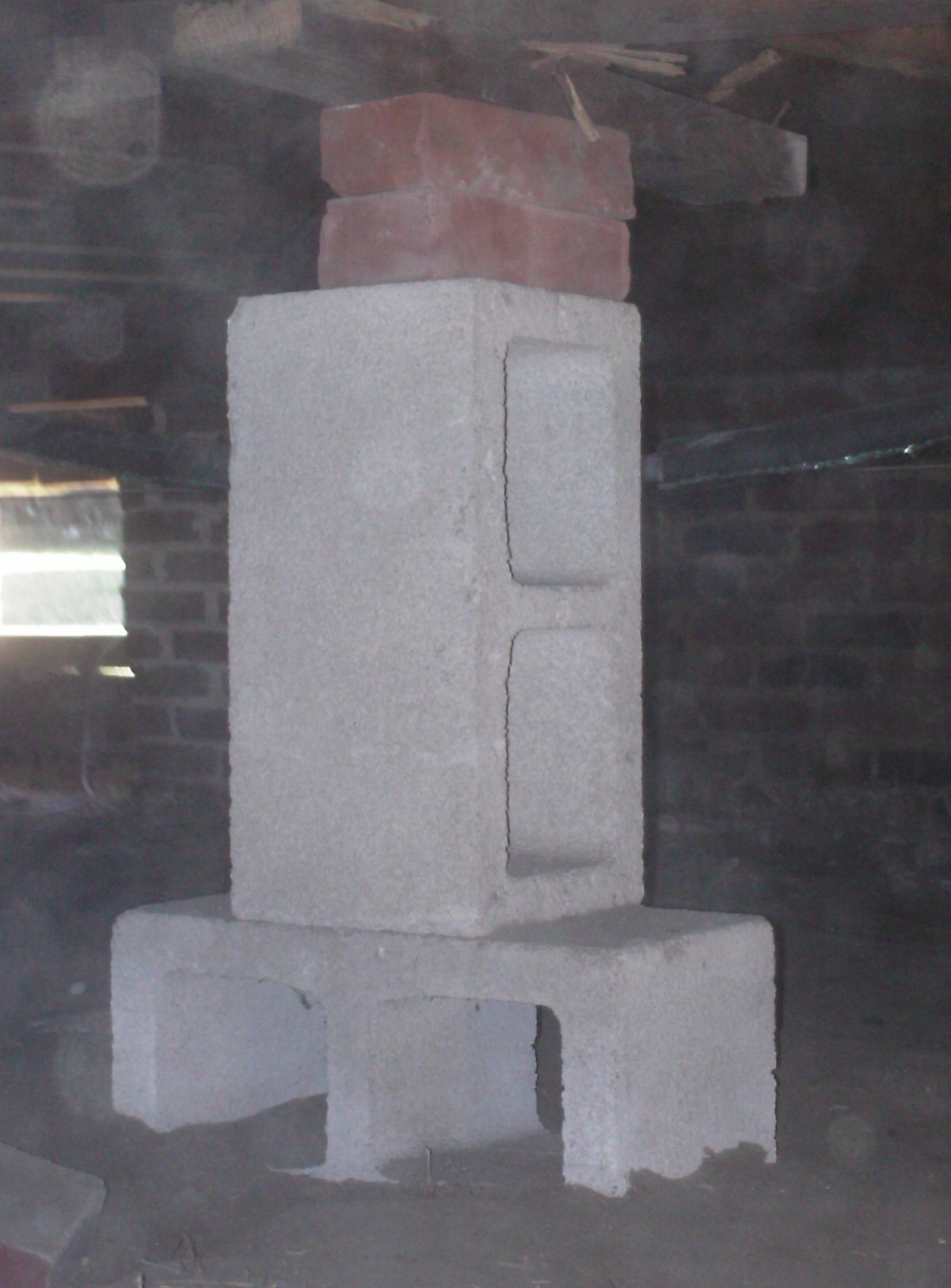 A main concern of a pier and beam structure involves undersized or poorly spaced lumber. A  4'' by 6'' wood beam or girder is usually the minimum size for a beam or girder supporting the structure. A 4'' by 4'' can sometimes be used, but it increases the chances of sagging or settlement, and the floor above may dip. If the supporting piers are placed closer together than the standard 6 feet apart, sometimes a 4'' by 4'' can be used, and a 4'' by 6'' can also sag if the piers are placed too far apart.

Joists are usually installed on 16'' centers, and beams or girders are rarely installed further than 12 feet apart. Engineers and architects know the proper spacing, and they know the larger the beam or joist, the greater the spacing that can be allowed without sagging and settlement, depending on the amount of weight above. In cases where poorly spaced or undersized joists, beams or girders are recognized, aditional lumber can usually be added to give it strength, without the added expense of replacing any lumber.

Some pier and beam foundations lack beams or sills around the perimeter of the structure entirely. Usually only a flat sill is all that supports the structure between the pier supports and the floor joists. In these cases, the floor will be wavy and bow in many places under a properly sized girder is added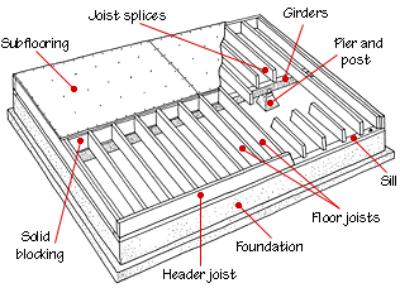 Floor joist sizes range from 6'' to 12'' in pier and beam foundations. The standard is an 8'' joist, but in some houses a 12" is used. The larger the joist, the longer the span it may reach without causing a sag or causing the above floor to shake.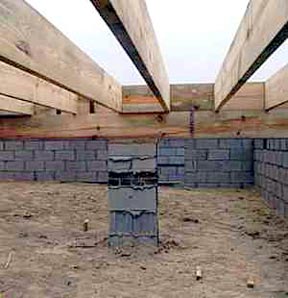 "Improper sizing and spacing of  floor joist or beams increases the possibility of sagging and settlement"

Another construction mistake is when a plumber or air-conditioning installer decides that the floor joists are blocking the path of his pipe or vent that he must install, so he just CUTS the joists or girders he needs to fit in his material. This cutting of the structure forms a cantilevered support, this weakens each side of the cut  joist or girder, and weakens the strength of the structural system.

Bored holes are limited in diameter to one-third the actual joist depth, and the edge of the hole cannot be closer than 2" to the top or bottom edges of the joist.

Do not cut notches in the top or bottom edges in the middle one-third of the joist span. Notches in the outer thirds of the span cannot exceed one-sixth the actual joist depth, and cannot be longer than one-third the depth. Notches made at a support, such as shown in Figure 23 for joists supported by ledgers, cannot exceed one-fourth the actual joist depth.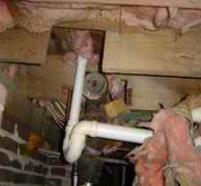 "Cutting framing members to install mechanical components can also weaken the structure"

"We believe you deserve quality service at the lowest

price in the market at ALL TIMES".

Evolution In Action  Foundation Repair Company Proudly Serving Atlanta Georgia and South Carolina Since 1997

Evolution In Action Foundation Repair Company LLC. was established in 1997 as an alternative to the larger over-priced foundation repair companies in Atlanta Georgia and South Carolina. Evolution In Action has more than fifteen years of Crawl Space  Foundation Repairs experience, an unsurpassed reputation in the professional community, and dozens of satisfied customers.    

                                                       We're Making a Difference in the Crawl Space Foundation Repair Business

You'll notice the difference in Evolution In Action Foundation  Repair Company from the first time you call. You'll always talk to a person, a friendly and knowledgeable person who is ready to answer your questions or schedule an appointment for an  estimate, or inspection. If you are experiencing crawl space foundation damage or uneven flooring, we strongly advise you to contact us.
NOBODY BEATS OUR PRICES !!
  If any competitor tries, we'll beat their price by 10%-20%. Guaranteed!  We also offer additional military and senior citizen discounts.
With competition growing in the foundation repair industry, what sets us apart from all the rest?

Crawl space foundation repairs involves specialty tools, and experience that disqualifies most foundation repair contractors. Most of our competitors DO NOT REPAIR OR REPLACE DAMAGED WOODEN FOUNDATION COMPONENTS, they just install helical piers or I-beams to support the existing damaged foundation components.  Our methods for Foundation Repairs are proven to be superior over repair methods used by other companies. We specialize in "COMPLETE" Crawl Space Foundation Repairs and have the necessary experience and equipment get the job done right. We offer foundation inspections to determine the cause of the foundation failure, then tailor each foundation repair to the individual home. We don't just install additional supports to level the flooring, we replace or repair all of the damaged components.  We offer long term solutions and approach each project, one project at a time, to give you our undivided attention and dedication to detail.

With  Evolution In action,  your home is not just another job site.  We will determine the best procedure to ensure  minimum damage to the interior or exterior finishes of your  home. You can rest easy knowing every foundation repair will be done right and is backed up with a long term written guarantee.


(404) 784-4301         (912) 631-2115        (843) 303-1266

We Accept All Major Credit Cards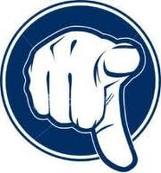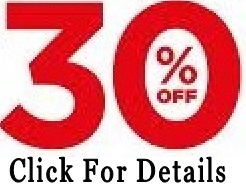 Foundation repairs are not as complicated, catastrophic, or expensive as you think. Our approach to scheduling, pricing and completing

all projects is very simple: "Here's the problem, solution, price, and start date". Therefore we suggest that you contact us after gathering

estimates from other companies in order to take advantage of our lowest price guarantee, and rapid response to scheduling projects.